Your Donation: The Crucial Link Between Community and Culture
When you donate to the Ukrainian Shumka Dancers, you bring the legend to life!
Your donation makes it possible for Shumka to create the art that brings so much joy to the lives of thousands. You also help to provide real opportunities for youth and young professionals for whom Ukrainian dance and culture is both a passion and a livelihood. Your donation is the crucial link between community and culture; between the artists who make the art and those who reap its benefits as performers or audience members.
Join Us! Decades of support, enthusiasm and encouragement speak volumes!
Shumka's passion for, pride in, and love of, our Ukrainian heritage are only a few of the reasons its beauty has become so ingrained in Alberta's cultural psyche. Shumka draws strength and inspiration from the Ukrainian Canadian contribution to Canada and from the wider community, which believes in the company's pursuit of the evolution of the art form. Our community roots run deep, and are reflected in the support of our patrons, funders, donors and audiences.
The Ukrainian Shumka Dancers are humbled to be a part of the community in which we create our art.
Shumka believes that it is vitally important that our work be relevant and meaningful to the artists and audiences of today. To express the aesthetic of the time in which we live, the stories told and statements made must speak to the experiences of our collective soul, marking our place in history.
Ways to Give
Gifts of cash, credit card or securities
Online, in person, by phone or mail – monthly, one-time or pledged over several years. You may also choose a specific way in which you would like to designate your funds:
New Works
Shumka School of Dance
Facility Fund
Outreach Programs
General Operations
Donate Online
You can donate quickly, easily and securely anytime

Donate by Phone
To make a donation by phone, please call 780-455-9559
Donate by Mail
Donations can be mailed to Shumka. Please print and complete this form
Mail to
Ukrainian Shumka Dancers
10515-111 Street
Edmonton Alberta T5H 3E8
Canada
Gifts in Memory or in Honour of a Loved One
If you wish to pay tribute to a loved one with a gift in memory or in tribute, you can easily do so online by phone or by mail. If you wish, Shumka can send a notification of your gift along with a personal message.

Gifts of Securities or Stocks
A gift of securities or stocks may offer greater tax advantages to you, since donors are no longer taxed on capital gains accrued on securities that have been donated to a registered charity like the Ukrainian Shumka Dancers.
To make a gift of securities or stocks, please contact Shumka executive.director@shumka.com or contact Darka directly at 780 455-9559 to discuss further. Contact your financial advisor with your request to transfer stock.
Remember Shumka in your Will
A gift such as a bequest in your will or a gift of life insurance demonstrates your love for dance and an investment in its continued success. In addition, such a gift may provide immediate or deferred tax benefits to you. Complete the Planned Giving Form and submit it by email to executive.director@shumka.com or contact Darka directly at 780 455-9559 to discuss further.
Matching Gifts
Many companies encourage employees to make donations to charities and not-for-profit organizations by providing incentives in the form of matching gifts. Please check with your company's community investment or human resources department to see if there is a matching gift policy in place. Your company will have a procedure for submitting a gift to be matched.
ATB Cares and Mylo
Other ways to give include: Mylo www.mylo.ai and ATB Cares  www.atbcares.com. Mylo is an app that rounds up your purchases and provides the "spare change" to the charity of your choice.
ATB Cares ATB will match 15% of every dollar up to $20,000 per month and with an annual limit of $200,000.
Charitable tax receipts will be issued for donations of $20 or more.
Registered Charitable Number: 11927 5220 RR0001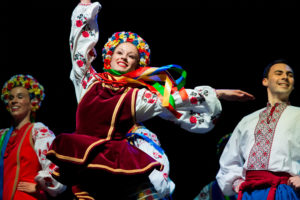 Donor Levels and Benefits
Recognition in Shumka Materials
Invitation to the Annual General Meeting and Shumka Family Event
Become a Shumka Insider: Advanced News and Information
Charitable Tax Receipt
+–Boots & Beads ($200 – $499 )
Recognition in Shumka Materials
Invitation to the Annual General Meeting and Shumka Family Event
Become a Shumka Insider: Advanced News and Information
Charitable Tax Receipt
Priority Advanced Opportunity for Ticket Purchases
+–Kozak Brotherhood ($500 – $999)
Recognition in Shumka Materials
Invitation to the Annual General Meeting and Shumka Family Event
Become a Shumka Insider: Advanced News and Information
Charitable Tax Receipt
Priority Advanced Opportunity for Ticket Purchases
Invitations to In-Studio Rehearsals for you and a guest
+–Whirlwind Partner ($1,000 – $2,499)
Recognition in Shumka Materials
Invitation to the Annual General Meeting and Shumka Family Event
Become a Shumka Insider: Advanced News and Information
Charitable Tax Receipt
Priority Advanced Opportunity for Ticket Purchases
Invitations to In-Studio Rehearsals for you and a guest
For Patrons outside of Edmonton, invitations to events when Shumka tours near you
Invitation to a Dress Rehearsal at the Jubilee Auditorium
+–Whirlwind Supporter ($2,500 – $9,999)
Recognition in Shumka Materials
Invitation to the Annual General Meeting and Shumka Family Event
Become a Shumka Insider: Advanced News and Information
Charitable Tax Receipt
Priority Advanced Opportunity for Ticket Purchases
Invitations to In-Studio Rehearsals for you and a guest
For Patrons outside of Edmonton, invitations to events when Shumka tours near you
Invitation to a Dress Rehearsal at the Jubilee Auditorium
Pre-show opening night reception with Shumka's Artistic Team and Board of Directors
+–Whirlwind Benefactor ($10,000 – $49,999)
Recognition in Shumka Materials
Invitation to the Annual General Meeting and Shumka Family Event
Become a Shumka Insider: Advanced News and Information
Charitable Tax Receipt
Priority Advanced Opportunity for Ticket Purchases
Invitations to In-Studio Rehearsals for you and a guest
For Patrons outside of Edmonton, invitations to events when Shumka tours near you
Invitation to a Dress Rehearsal at the Jubilee Auditorium
Pre-show opening night reception with Shumka's Artistic Team and Board of Directors
Complimentary tickets to performances
Parking stall in front of the Jubilee Auditorium for Shumka shows
Opportunity for private backstage tour at the Jubilee Auditorium
+–Whirlwind Visionary ($50,000+)
Recognition in Shumka Materials
Invitation to the Annual General Meeting and Shumka Family Event
Become a Shumka Insider: Advanced News and Information
Charitable Tax Receipt
Priority Advanced Opportunity for Ticket Purchases
Invitations to In-Studio Rehearsals for you and a guest
For Patrons outside of Edmonton, invitations to events when Shumka tours near you
Invitation to a Dress Rehearsal at the Jubilee Auditorium
Pre-show opening night reception with Shumka's Artistic Team and Board of Directors
Complimentary tickets to performances
Parking stall in front of the Jubilee Auditorium for Shumka shows
Opportunity for private backstage tour at the Jubilee Auditorium
Photo with cast onstage
A customized experiential package tailored to the donor
Donations can also be accepted by mail or by phone at:
10515 111 Street NW, Edmonton AB, T5H 3E8
780.455.9559  •  whirlwind@shumka.com