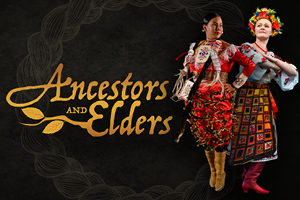 A New Work Premiering April 27 & 28 2018.
Join the mailing list for more information.
Watch it Live. Tickets Now On Sale HERE 
Ancestors & Elders is a project borne from a desire to connect the Ukrainian settler experience to that of the indigenous people of Treaty 6 territory. In a production to feature a cast of Shumka Dancers and multidisciplinary indigenous artists, our goal is to share a story of the first Ukrainian newcomers to Canada, exploring the shared values—as well as respected differences—between Ukrainian and First Nations people.
Ancestors & Elders will have its premiere on April 27 and 28 of 2018 at the Northern Alberta Jubilee Auditorium. The premiere dates will include public evening performances. Relevant outreach and educational events/programs will be part of the project as well. Plans are to have it presented for school educational programs in the future.
Sneak peek events leading up to the premiere dates included: Ukrainian Day at Ukrainian Cultural Heritage Village (August 13), Bannock and Borscht free community event at Shumka Dance Centre (September 30 & October 1).
Funders to date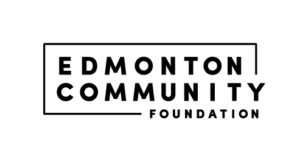 Creative Team to date:
Directors – Barry Bilinsky; Joseph Hoffman
Choreographer – Joseph Hoffman
Story Consultant/Spoken Word/Poetry – Anna Marie Sewell
Visual Artists – Lana Whiskeyjack; Svitlana Kravchuk
Guest Performers – Darlene Auger; Brittany Pastion; Lakota Tootoosis; Laurentia Tootoosis
Music Development:
Carissa Klopoushak – Ukrainian Violinist
Mike Romaniak – Composer/Arranger/Recording Engineer
Anders Hunter – Singer and Drummer – Eya Hey Nakoda
Costume Design – Megan Koshka
Costume Consultants (Shumka) – Trinity Chopyk; MaryAnn Baziuk
Lighting Design – Jeff Osterlin
Projection Design – Elijah Lindenberger
Production Management – Joshua Semchuk; Darka Tarnawsky
Marketing: Bottom Line Productions Inc.
BEHIND THE SCENES Images in Rehearsal
Directors Joseph Hoffman and Barry Bilinsky presenting Ancestors & Elders to UofA SLAV 399 Early Ukrainian Canadian Culture class
January 30 2018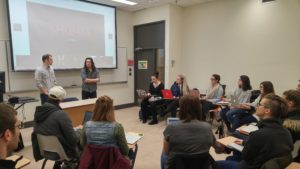 Shumka Young Company Auditions
January 2018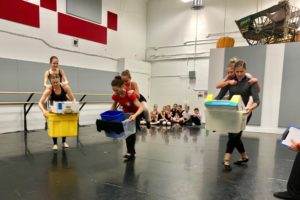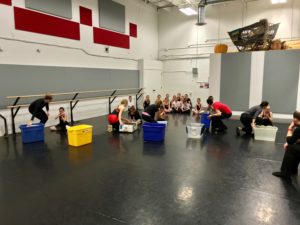 Masque Development with Megan Koshka, Costume Designer and Christy Hutchinson, Costume Builder, Theatre Garage
January, 2018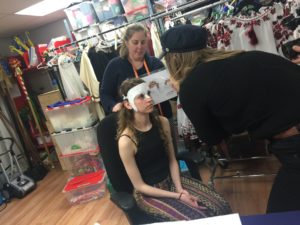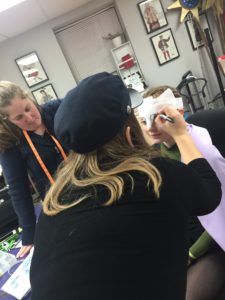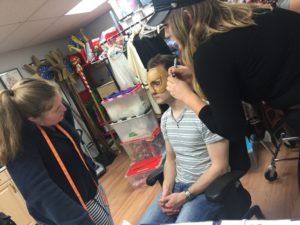 Music Residency for Music Creation November, 2017
IN REHEARSAL, Summer 2017
WORKSHOP PERFORMANCE at The Ukrainian Cultural Heritage Village August 13 2017
DESIGN
Some examples of Design planning by Visual Designers Svitlana Kravchuk and Lana Whiskeyjack