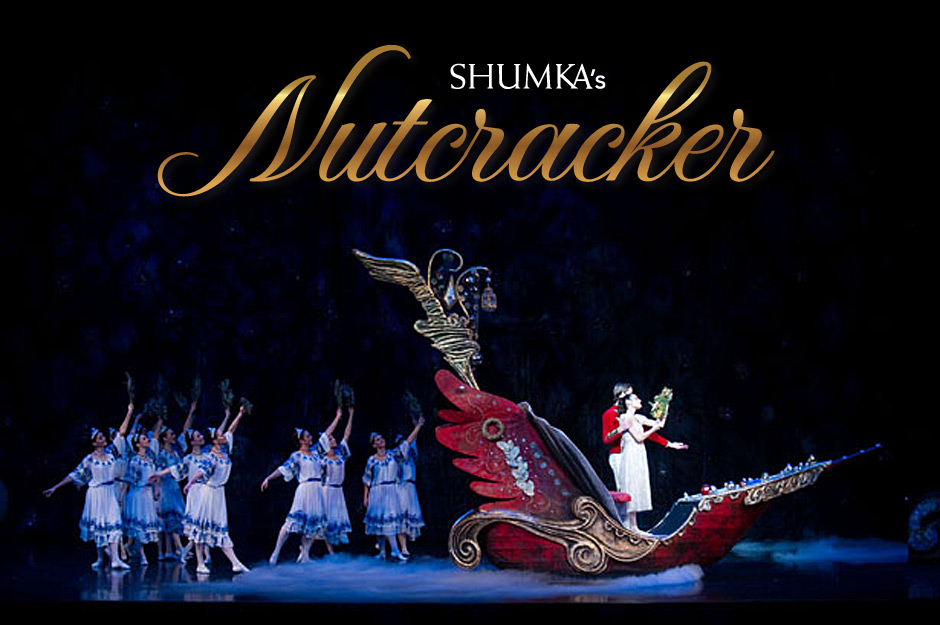 "A perfect first Nutcracker for many generations …. A powerful and beautiful thing to behold."
– Edmonton Journal
Shumka's Nutcracker is a new Holiday classic and a true Edmonton Nutcracker. This luxurious and uniquely powerful production features ballet, folk dance, and character dance in a celebration of Tchaikovsky's beloved score. Shumka's Nutcracker blends the grace and lyrical nature of classical movement with the strength of Ukrainian character dance, leaving audiences exhilarated and entertained.
Given Tchaikovsky's Ukrainian heritage, the production incorporates Ukrainian Christmas traditions, folk and character dance, a grand orchestral version of Shchedryk (Carol of the Bells), and Ukrainian symbols woven into the lavish sets and costumes.
Witness the story of the young Clara, her dream prince, the meddling mice and the magic of the holiday season. A delight for the senses!
Show Dates
Royal Theatre, Victoria
November 29 – December 1, 2019
Northern Alberta Jubilee Auditorium, Edmonton
December 14-15, 2019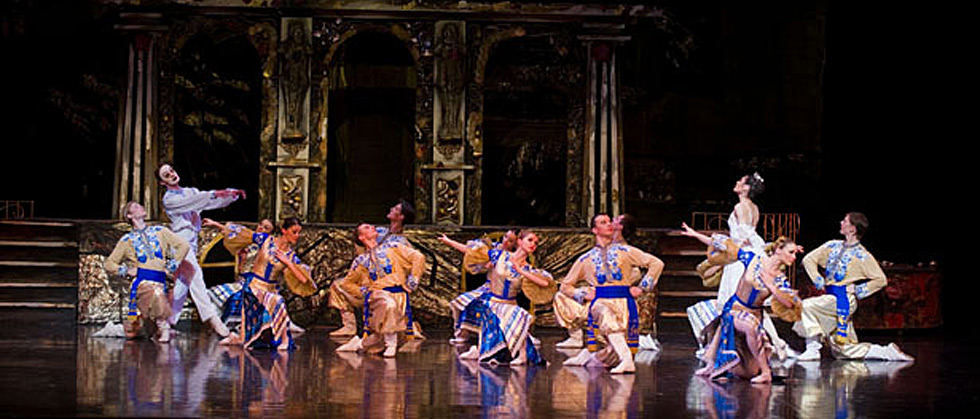 About the Show
Act I
Our story takes place one magical Christmas Eve, as the Stahlbaum family busily finishes last minute preparations for a grand party. A tableau is presented and we see a puppet workshop, where Dr. Drosselmeier's nephew is hard at work. His mysterious Uncle makes an unexpected appearance. Happy to show off his wares, the nephew reveals a Vertep, a Ukrainian puppet theatre. Together the two entertain a group of children who are joyfully anticipating the Christmas Eve celebration about to take place. After bidding good night to the young ones, Dr. Drosselmeier indicates he is wishing a special gift for his Goddaughter Clara. Although his Nephew offers suggestions, his Uncle is not content. Thinking for a moment, the young man reluctantly brings out his newest creation, a large Nutcracker doll. Dr. Drosselmeier, impressed, considers it but feels it is missing that 'special something.' His nephew, eager to please, gifts the Nutcracker a most magical element – his heart.
An enchanting city streetscape sees the guests begin to arrive, dressed in their holiday finery. With a flourish of his great black cape, the mysterious Dr. Drosselmeier appears, greeting Ukrainian carolers. His arrival to the Stahlbaum party is magical and he brings a doll as a gift, which performs a delightful dance with the children, while a Ukrainian marionette brings yet more joy to the young ones. However, it is the Nutcracker doll, Drosselmeier's gift to his Clara that wins her heart. Clara's brother Fritz teases her by snatching the Nutcracker away from his sister and accidentally breaks the doll's arm. She is devastated. Dr. Drosselmeier encourages them to gently cradle the broken Nutcracker doll before carefully placing it beneath the Christmas tree. Then he beckons the carolers and their Christmas star.
After the guests leave, Clara creeps back to the darkened parlour to check on her Nutcracker. The clock chimes, striking midnight, and as she peers into the darkness, Clara realizes she is surrounded by an army of menacing mice. A cannon blast downs a battalion of mice while the Nutcracker, now come to life, leads toy soldiers into battle. The fight rages on until the Mouse King corners the Nutcracker in a duel. Clara comes to the Nutcracker's aid and defeats the Mouse King by pulling off his tail.
The spell broken, the Nutcracker is transformed to a handsome prince, and he declares his eternal gratitude to the young heroine. He whisks her away to his fantastic fairytale kingdom, far from the mice, the parlour and Clara's childhood home.
Act II
Clara and the Prince journey to the magical fairytale kingdom where upon their arrival at his palace they are entertained by his friends with a magnificent dance of Carol of the Bells. Once inside, delegates from faraway lands perform for the pair: elegant Spanish dancers, a mysterious Arabian girl and a merry Chinese trio delight. A dazzling Ukrainian Hopak complete with high kicking Cossacks is presented in a most spectacular fashion. Soon, the Prince asks Clara to join him in a romantic and lyrical pas de deux.
Suddenly, Clara is back in her family's parlour, cradling her Nutcracker. She sighs, realizing her wonderful journey was but a fantasy. Or was it? Drosselmeier later visits with his young nephew, who bears a striking resemblance to Clara's beloved Prince…

Behind the Scenes
Choreography, the process, and dressing alike
A behind the scenes chat with Shumka's Nutcracker Senior Creative Director, Jorden Morris and Creative Director Tasha Orysiuk.